Touchedbyanangel
1998 Chestnut mare, ApHC, ApHCC

Sire: Goers Design, by Goer
Dam: Seventh Heaven by First Secretary

Congratulations to John Calendar, Harwood, Texas, on his purchase of Touchedbyanangel.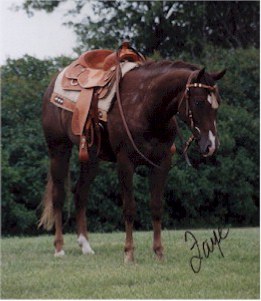 Abby is a point earning halter horse, standing Grand Champion Mare. Her sire was 16.2 hh and her dam was nearly 17 hands. Her foals be Fit To Be Tied are looking to be the next hot tickets in the hunt seat classes. Big, leggy, long slow strides and minds second to none.

Production Record:
The Red Corvette - 2003 Chestnut mare by Fit To Be Tied, unshown due to injury.
Fit To Be Snazzy - 2004 Chestnut mare by Fit To Be Tied,
will be presented at the Fall Futurities.
Fittingly Designed - 2005 Chestnut colt, by Fit To Be Tied. CAIF nominated.